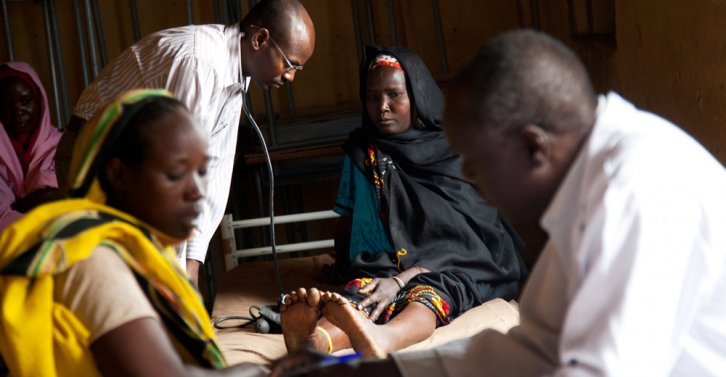 UN Photo Albert González Farran
Protecting and Promoting Public Health
Adopting a 'health in all policies' approach, and strengthening health systems globally can help create safe, resilient, sustainable, and healthy communities.
In the 2011 Durban Call to Action, the Global Climate and Health Alliance committed to:
1. Provide Leadership: As representatives of our organizations, we will drive the agenda for climate and health, promoting this Call to Action throughout the world.
2. Engage and Inform: We will engage and inform our constituencies of millions of doctors, nurses, public health workers, hospitals, health systems and health policy makers about the health risks from climate change, and the health benefits of climate action. As health professionals, we will also serve as messengers to our patients, our communities and our governments about the major health impacts of climate change and the steps they can take to reverse their impact.
3. Mitigate: We will lead by example and reduce the carbon footprint of our own institutions, practice and activities. We will strive to make our hospitals greener and healthier by reducing waste, investing in energy efficiency and clean energy sources, while promoting sustainable transport and resource consumption. By doing so, we commit to demonstrating how our societies can move toward carbon neutrality.
4. Adapt: We will strive to make our health systems more resilient and capable of withstanding and responding to the human toll of natural disasters and the shifting burden of disease.
5. Advocate Locally and Nationally: We will work within our countries to advocate for emissions reductions and/or low-carbon development strategies that promote both a healthy climate and public health. We will call for solutions that reduce the local health impacts of fossil fuels; solutions that foster clean energy and social justice; solutions that save lives and money while protecting public health from climate change.
6. Advocate Globally: We will advocate for a fair and binding global agreement, as articulated in the Durban Declaration on Climate and Health, that:
Places the protection of human health as a primary objective of any agreement.
Establishes an ambitious fair shares framework to reduce global emissions (based on the principles of Equity and Common but Differentiated Responsibilities and Respective Capabilities) in order to avoid a global public health disaster.
Fosters both energy efficiency and clean, renewable energy that protects public health by reducing both local and global pollution.
Provides the immediate necessary resources to operationalize the Green Fund, and in the longer term, appropriate mitigation and adaptation funding required to address the health impacts of climate change, assuring all countries' Rights to Sustainable Development and their ability to pursue a low carbon development pathway.