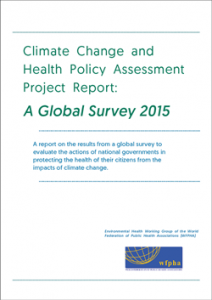 WFPHA report on national climate and health policies
This report by the World Federation of Public Health Associations (WFPHA), co-sponsored by GCHA member groups the Australian Climate and Health Alliance and Health Care Without Harm, found that many countries are lagging in policies to protect their populations from the adverse health impacts of climate change.
Respondents from 35 countries completed the global survey, which revealed more than half of respondent countries (51%) did not have an adequate national plan to protect the health of their citizens from climate change.
The survey found that many developed and developing nations lacked comprehensive national climate change action plans, however vulnerable developing nations appear to be less prepared, with 70% of respondent countries reporting that either their national climate policies did not address health or there was no national climate action plan in existence. Positive examples do exist, with case studies from US and South Korea featured in the report, which the authors say offer insights into both mitigation and adaptation strategies. The majority of respondent countries (77.1%) have no comprehensive identification of health risks of climate change projections for their citizens and 65.7% had done little towards identifying vulnerable populations and infrastructure, developing public health adaptation responses, assessing coping capacity or gaps in knowledge.
"The message from the global public health community is very clear," Dr Asnake said. "We must act now to secure public health, and reap the benefits, for health budgets and the global community. Designing policies and programs at national and global level to protect people from climate change provides an immediate global health opportunity to reduce the burden of illness, while delivering a more stable climate in the longer term."