Health and Fossil Fuels: A rapid and just transition
The Health Community Call for a Phase-out of Fossil Fuels
To protect the health and lives of present and future generations we need a rapid, equitable phase-out of fossil fuels globally, so as not to exceed 1.5ºC of warming advised by global scientific consensus. Transitioning to clean energy also promises major health benefits, in the near term, for every country that makes the shift. That's why in 2021, the health community put forward the Healthy Climate Prescription which included, as a key point, calling for…
…all nations to deliver a rapid and just transition away from fossil fuels, starting with immediately cutting all related permits, subsidies and financing for fossil fuels, and to completely shift current financing into development of clean energy….
Signed by organizations representing 46 million health professionals and health workers, and by thousands of individual health professionals from around the world, the letter made the position of the health community clear: fossil fuels have got to go.
The World Health Organization is amongst the nearly 200 organizations and over 1000 health professionals calling for governments to lay out a legally binding global plan to phase out fossil fuel use. 
"The modern addiction to fossil fuels is not just an act of environmental vandalism. From the health perspective, it is an act of self-sabotage",
– Dr Tedros Adhanom Ghebreyesus, Director-General of the World Health Organization.
Take Action: A Fossil Fuel Non-Proliferation Treaty

Phasing out fossil fuel production, and fast-tracking progress towards safer and more cost-effective alternatives, will require unprecedented international cooperation. Momentum is now building around a potentially powerful mechanism for delivering on that demand: a fossil fuel non-proliferation treaty.
Like the Framework Convention on Tobacco Control, the proposed Fossil Fuel Non-Proliferation Treaty would be an evidence-based international agreement to control a category of substances well-known to be harmful to human health.
A letter from the health community in support of the call for a treaty is now open for sign on:
Fossil Fuel Phase Out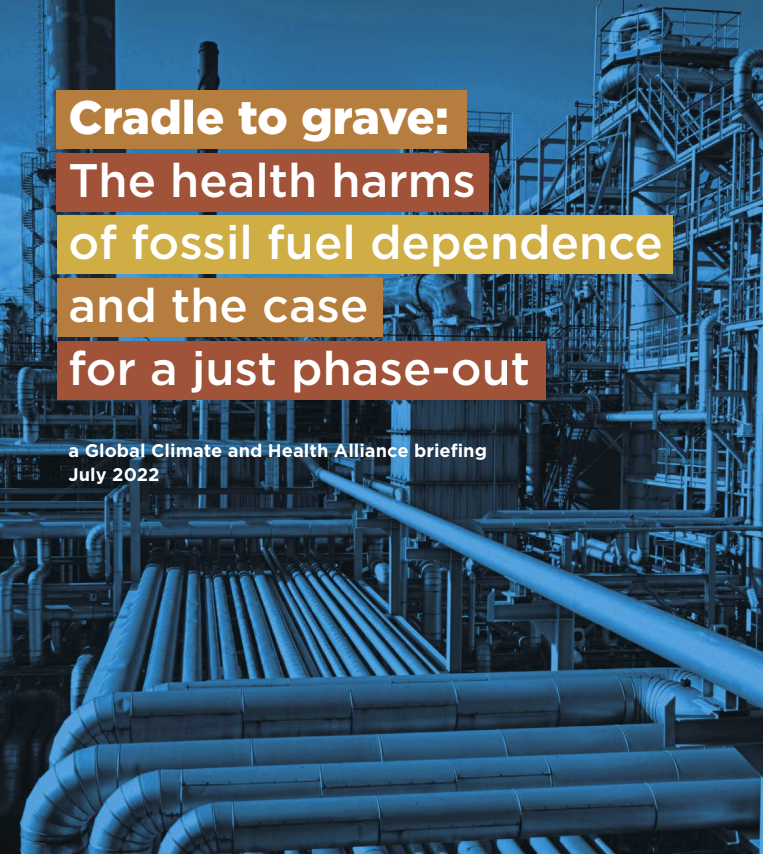 For over a century, fossil fuels have been at the root of global development, however, these same resources are the leading driver of changes that are already harming people's health, communities, and the planet . This brief examines the impact of fossil fuel extraction, production and combustion on human health, the role subsidies play as supporting fiscal architecture for fossil fuel dependence, and solutions to achieve fossil fuel phase-out across sectors, before identifying key recommendations. Read the brief here
---
Just and Healthy Energy Transition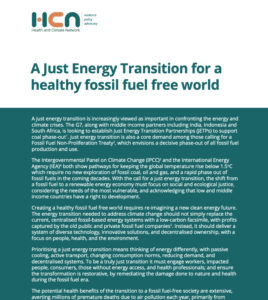 Creating a healthy fossil fuel free world requires re-imagining a new clean energy future. The just energy transition needed to address climate change should deliver a system of diverse technology, innovative solutions, and decentralised ownership, with a focus on people, health, and the environment, and must ensure this transformation is restorative, remediating the damage done to nature and health during the fossil fuel era. (HCN briefing)

---
Watch
Our information session on the health risks of fossil fuels and the fossil fuel non-proliferation treaty is available on video in English and Spanish:
---
 #FossilFree4Health
Twitter feed is not available at the moment.