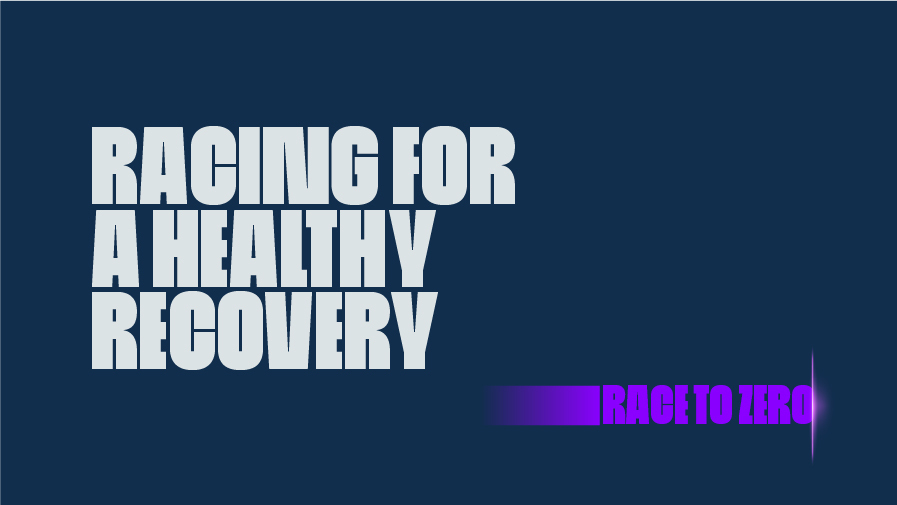 Race To Zero Climate & Health Dialogue – for a healthy, resilient, and zero-carbon Recovery
24-hour virtual "Climate & Health Dialogue – for a healthy, resilient, zero-carbon recovery" 
The "Climate & Health Dialogue – for a healthy, resilient, zero-carbon recovery" will bring local to global actors together to place health and equity at the center of ambitious climate action. Through a series of virtual events, hosted in rotation by regional partners throughout a 24-hour period, the Dialogue will envision how a healthy, equitable recovery from COVID-19 can drive rapid decarbonization of the world economy. The dialogue will present initiatives, case-studies and interventions for a healthy, climate-resilient and climate-just future across several priority areas of action: Adaptation & resilience; Nature; Energy transition; Zero carbon road transport; and Finance. The full schedule of events can be seen here.
This virtual event will take place on November 9, as a part of the November Race to Zero Dialogues organized by UNFCCC in partnership with the High-Level Climate Champions. It will pave the way to the 2021 Global Conference on Health and Climate Change and the COP26 UN climate change conference to be held in Glasgow, UK in November 2021.
Session speakers will include representatives from cities, regions, businesses and civil society from sectors such as Health, Transport, Economy and Energy, as well as scientists, policy makers, celebrities, local authorities and mayors, government representatives, representatives from vulnerable communities and youth leaders.
Race To Zero Climate & Health Dialogue – for a healthy, resilient, and zero-carbon Recovery is hosted by the World Health Organization, in collaboration with Race To Zero, the Global Climate and Health Alliance, the Wellcome Trust, Glasgow Caledonian University and its Centre for Climate Justice, the UK Health Alliance on Climate Change, and the Centre on Climate Change and Planetary Health of the London School of Hygiene and Tropical Medicine.
Please note, the speakers list will grow in the coming weeks – this is not the final line up.
09:00 – 09:30 am GMT: Introduction to the Race To Zero Dialogues: High-Level Climate Action Champions, Gonzalo Muñoz and Nigel Topping introduce and set out objectives for the Race to Zero Dialogues
09:30 – 10:30 am GMT: Systems Transformation Opener: The urgent need for action and the imperative of a systems approach to change. Organised by the Club of Rome and the Potsdam Institute.
10.30 – 11.30 am GMT: Keynote opening of the Climate & Health Dialogue: The necessary steps to achieve a healthy, equitable recovery from COVID-19 and drive a rapid decarbonisation of the world economy. Organised by WHO and leading health organisations.
Register here for Opening Session »
Speakers:
Opening Keynote:
Patricia Espinosa, Executive Secretary, UNFCCC
Tedros Adhanom, Director General, WHO
Moderator: Dr. Maria Neira, WHO
Additional speakers:
Sergio Costa, Minister of the Environment, Italy (video)
Josh Karliner, International Director of Program and Strategy, Health Care Without Harm
Closing Keynote:
Rt Hon. Alok Sharma MP, President, COP26; Secretary of State for Business, Energy and Industrial Strategy, UK
Register for Race to Zero Climate and Health Dialogue Opening Session »
---
Race to Zero dialogue on climate and health, taking a deep dive into the healthy energy solutions we need to address inequalities exacerbated by the climate-health-energy nexus. With the participation of youth climate and health champions, the International Renewable Energy Agency (IRENA), and different stakeholders from the African continent.
Keynote
Francesco La Camera, IRENA DG
Moderator:
Beniamin Strzelecki, Global Focal Point, SDG7 Youth Constituency
Youth speakers:
Poorva Patil, President of the Medical Students Association of India
Jordyn Burnouf, Co-Chair Sevengen Indigenous Youth Energy Summit & 2020 Catalyst
Fana Sibanyoni,  Activist from South Africa's Mpumalanga coal area
Asma Rouabhia, Program Manager at CODEV Governance
Sajith Wijesuriya, Founder of Science Policy Circle
Institutional Speakers:
Francesco La Camera, Director General, IRENA
James Irlam, Chair of the Climate, Energy and Health (CEH) special interest group, Public Health Association of South Africa (PHASA)
Register for Race to clean energy: Youth set the agenda for a healthy recovery »
---
Race to Zero dialogue on climate and health, showcasing how cities, businesses and governments can drive a just transition to clean and healthy modes of transport. With the participation of mayors, transport networks and frontline speakers.
Moderator: TBD
Opening Remarks:
Nigel Topping, High Level Champion for Climate Action COP26
Frontline Speaker:
Rosamund Kissi-Debrah, Founder and Executive Chairwoman – The Ella Roberta Foundation
Additional speakers:
Yvonne Aki-Sawyerr, Mayor of Freetown
Register for Race to Zero Carbon Road Transport »
---
Race to Zero dialogue on climate and health, outlining out the changes needed for financial systems to drive a healthy recovery towards a climate-safe and economically stable future.
Moderator:
Professor Tahseen Jafry, Glasgow Caledonian University
Keynote speakers + moderated conversation:
Yasmine Moezinia, Head of COP26 – Private Finance Team
Mithika Mwenda, Co-Founder Pan African Climate Justice Alliance
Keynote speaker + moderated conversation:
Jeffrey Sachs, Chair of the Lancet COVID-19 Commission
Deep-dive/breakout:
Dr Barbara Buchner, Global Managing Director and Executive Director, Climate Policy Initiative
Rapporteur/ closing remarks:
Professor Tahseen Jafry, Glasgow Caledonian University
Register for Financing a Zero-Carbon and Healthy Future »
---
Race to Zero dialogue on climate and health that shares the pathways for nature-based solutions (NBS) to raise climate ambition, strengthen health resilience, and contribute to a healthy, sustainable and just post COVID recovery.
Keynote speaker:
H.E. Andrea Meza Murillo, Minister of Environment and Energy, Costa Rica
Frontline speaker:
Maria Yolanda Teran, Ph.D. in Native American Studies
Additional speakers:
Elizabeth Maruma Mrema, CBD Executive secretary
Marco Lambertini, Director General, WWF International
Cristina Romanelli, WHO
Register here for Race for Nature and Health »
---
Race to Zero dialogue on climate and health, which examines how to achieve health adaptation and resilience for the most vulnerable countries and communities, with a specific emphasis on Small Island Developing States.
Keynote speaker:
Gonzalo Muñoz, COP26 High-Level Climate Action Champion
Additional speakers:
Helen Clark, Lancet Pathfinder Commission
Diarmid Campbell-Lendrum, Climate Change and Health Team Leader, WHO
Moderator:
Jeni Miller, Executive Director of the Global Climate and Health Alliance