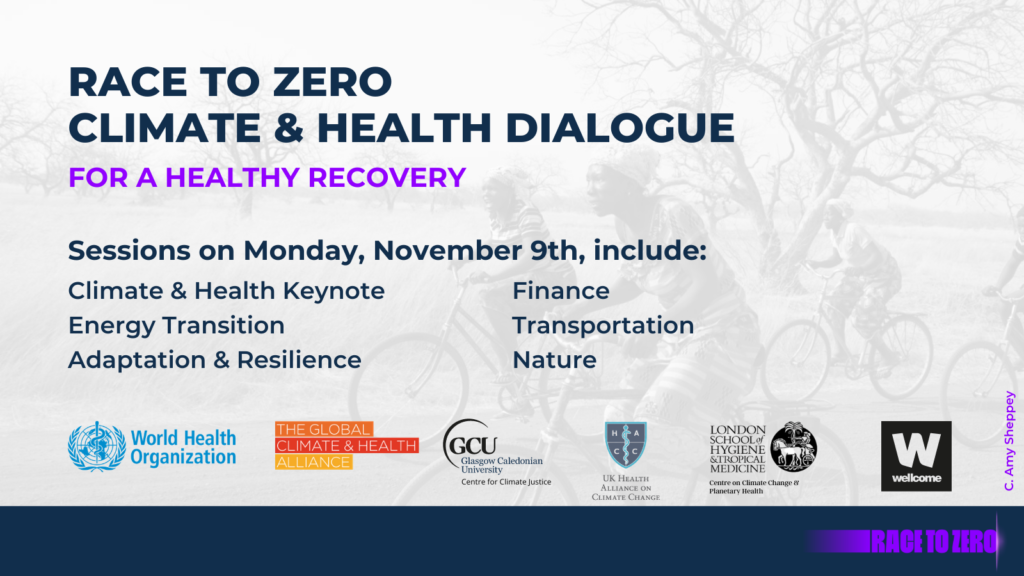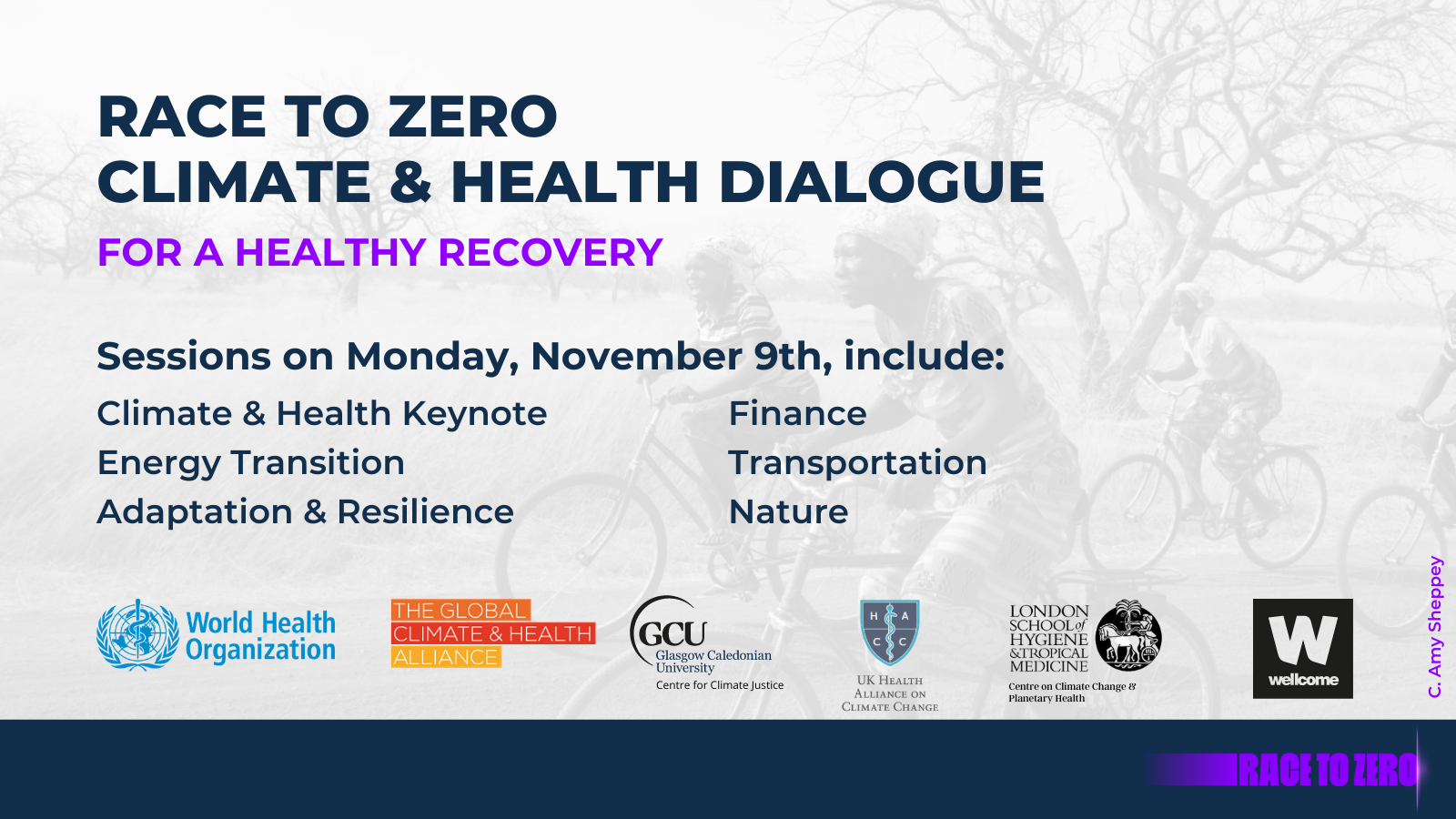 Race To Zero Climate & Health Dialogue – for a healthy, resilient, and zero-carbon Recovery
24-hour virtual "Climate & Health Dialogue – for a healthy, resilient, zero-carbon recovery" 

Opening remarks by WHO Director-General Dr. Tedros for Climate & Health Day
As the world navigates the global recovery from the COVID-19 crisis, governments, cities and businesses have a once-in-a-lifetime opportunity to drive a healthy and equitable recovery towards a wellbeing economy while tackling the biodiversity and climate crises.
The Race to Zero Dialogue on Climate & Health on November 9th will bring local and global actors together to place health and equity at the center of ambitious climate action. Through a series of virtual events, hosted throughout a 24-hour period, the dialogue will envision how a healthy, equitable recovery from COVID-19 can drive rapid decarbonization of the world economy.
The event will highlight the crucial intersection between health and climate action across five priority areas for climate action: energy transition; zero carbon road transport; finance; nature; adaptation and resilience; as well as showcase health leadership, progress and initiatives. The full schedule of events can be seen here.
This virtual event will take place on November 9, as a part of the November Race to Zero Dialogues organized by UNFCCC in partnership with the High-Level Climate Champions. It will pave the way to the 2021 Global Conference on Health and Climate Change and the COP26 UN climate change conference to be held in Glasgow, UK in November 2021.
Session speakers will include representatives from cities, regions, businesses and civil society from sectors such as Health, Transport, Economy and Energy, as well as scientists, policy makers, celebrities, local authorities and mayors, government representatives, representatives from vulnerable communities and youth leaders.
Race To Zero Climate & Health Dialogue – for a healthy, resilient, and zero-carbon Recovery is hosted by the World Health Organization, in collaboration with Race To Zero, the Global Climate and Health Alliance, the Wellcome Trust, Glasgow Caledonian University and its Centre for Climate Justice, the UK Health Alliance on Climate Change, and the Centre on Climate Change and Planetary Health of the London School of Hygiene and Tropical Medicine.
09:00 – 09:30 am GMT: Introduction to the Race To Zero Dialogues: High-Level Climate Action Champions, Gonzalo Muñoz and Nigel Topping introduce and set out objectives for the Race to Zero Dialogues
09:30 – 10:30 am GMT: Systems Transformation Opener: The urgent need for action and the imperative of a systems approach to change. Organised by the Club of Rome and the Potsdam Institute.
10.30 – 11.30 am GMT: Keynote opening of the Climate & Health Dialogue: The necessary steps to achieve a healthy, equitable recovery from COVID-19 and drive a rapid decarbonisation of the world economy. Organised by WHO and leading health organisations.
Watch video recording:

Speakers:
Keynote opening of the Climate & Health Dialogue:

Frank Bainimarama, PM, Hon. Prime Minister of Fiji
H.E. Sheikh Hasina, Hon. Prime Minister of the People's Republic of Bangladesh and Chair of Climate Vulnerable Forum
Teresa Ribera, Vice President of the Government and Minister for the Ecological Transition and the Demographic Challenge, Spain
Sergio Costa, Minister of the Environment, Italy (video)
Patricia Espinosa, Executive Secretary, UNFCCC
Tedros Adhanom, Director General, WHO
Dr Maria Neira, Director of the Public Health, Environment and Social Determinants of Health Department, WHO
Dr. Richard Smith, UK Alliance on Health and Climate Change speaker
Sir Simon Stevens, Chief Executive Officer, NHS England
Ian Hamilton, Executive Director, Lancet Countdown
Francesco La Camera, Director General of the International Renewable Energy Agency (IRENA)
Watch video recording of Opening Session »
---
Race to clean energy: Youth set the agenda for a healthy recovery, 1200-1330 GMT, November 9 2020
Race to Zero dialogue on climate and health, taking a deep dive into the healthy energy solutions we need to address inequalities exacerbated by the climate-health-energy nexus. With the participation of youth climate and health champions, the International Renewable Energy Agency (IRENA), and different stakeholders from the African continent.
Francesco La Camera, Director General of the International Renewable Energy Agency (IRENA)
James Irlam, Public Health Association of South Africa (PHASA)
Youth speakers:
Beniamin Strzelecki, Global Focal Point, SDG7 Youth Constituency
Poorva Patil, President of the Medical Students Association of India
Jordyn Burnouf, Co-Chair Sevengen Indigenous Youth Energy Summit
Fana Sibanyoni,  Activist from South Africa's Mpumalanga coal area
Asma Rouabhia, Program Manager at CODEV Governance
Sajith Wijesuriya, Founder of Science Policy Circle
Watch video recording of Race to clean energy: Youth set the agenda for a healthy recovery »
---
Race to Zero Carbon Road Transport, 1800-1930 GMT, November 9 2020
Race to Zero dialogue on climate and health, showcasing how cities, businesses and governments can drive a just transition to clean and healthy modes of transport. With the participation of mayors, transport networks and frontline speakers.
Nigel Topping, High Level Champion for Climate Action COP26
Rosamund Kissi-Debrah, Founder and Executive Chairwoman – The Ella Roberta Foundation
Yvonne Aki-Sawyerr, Mayor of Freetown
Heather Thompson, CEO  Institute for Transportation and Development Policy (ITDP)
Audrey de Nazelle, Imperial College London
Charlotte Marchandise, former Deputy Mayor of Rennes and President, WHO Healthy Cities French Network
Watch video recording of Race to Zero Carbon Road Transport »
---
Financing a Zero-Carbon and Healthy Future, 2000-2130 GMT, November 9 2020
Race to Zero dialogue on climate and health, outlining out the changes needed for financial systems to drive a healthy recovery towards a climate-safe and economically stable future.
Professor Tahseen Jafry, Director of Glasgow Caledonian University's Centre for Climate Justice
Yasmine Moezinia, Head of COP26 – Private Finance Team
Mithika Mwenda, Co-Founder Pan African Climate Justice Alliance
Jeffrey Sachs, Chair of the Lancet COVID-19 Commission
Ama Essel, Community Health Physician
Ania Grobicki, Deputy Director for Communications & Public Relations, Green Climate Fund
Watch video recording of Financing a Zero-Carbon and Healthy Future »
---
Race for Nature and Health, 2200-2330 GMT, November 9 2020
Race to Zero dialogue on climate and health that shares the pathways for maximizing co-benefits to curb biodiversity loss, raise climate ambition, strengthen health resilience, and contribute to a healthy, sustainable and just post-COVID 19 recovery, while paving the road toward a decarbonized future.
H.E. Andrea Meza Murillo, Minister of Environment and Energy, Costa Rica
Maria Yolanda Teran, Ph.D. in Native American Studies
Elizabeth Maruma Mrema, BD Executive secretary
Marco Lambertini, Director General, WWF International
Carolina Schmidt, Minister of the Environment Chile
Alejandro Argumedo, Program Director, Asociacion ANDES
Carolina Urrutia, Secretary of the Environment, City of Bogotà
Kinari Webb, Founder,  Harmony in Health
---
Race for Health Resilience, 0200-0330 GMT, November 10 2020

Race to Zero dialogue on climate and health, which examines how to achieve healthy adaptation and resilience for the most vulnerable countries and communities, with a specific emphasis on Small Island Developing States.
Gonzalo Muñoz, COP26 High-Level Climate Action Champion
Vainetutai Rose Toki Brown, Honourable Minister Of Health, Cook Islands
Saima Wazed Hossain, Thematic Ambassador to Climate Vulnerable Forum
Elhadj As Sy, Co-Chair of the Global Preparedness Monitoring Board
Diarmid Campbell-Lendrum, Climate Change and Health Team Lead, WHO
Jeni Miller, Executive Director of the Global Climate and Health Alliance
Irfan Khan, Director General the Ministry of Climate Change, Pakistan
Josh Karliner, International Director of Program and Strategy, Health Care Without Harm
Aletha Ward, Nurse, University of Southern Queensland
---
Initiatives presented on November 9th
Midnight Climate Survival with the Climate Vulnerable Forum
The leaders from the world's most climate vulnerable nations have called on all countries to fulfil their commitments under the Paris Agreement, and submit improved Nationally Determined Contributions (NDCs) by midnight on 31 December 2020, a survival deadline for the climate.
On November 9th, we will hear from the Climate Vulnerable Forum, a coalition of 48 climate-vulnerable countries, on the "Climate Survival Deadline" of the most vulnerable and where countries stand in meeting their Paris obligations in 2020.
More information here
Pathfinder Initiative on health in the zero-carbon economy
A new initiative will be launched during the November 9th Climate & Health dialogue, which will synthesise evidence for the development and implementation of actions across a range of sectors to improve and sustain health while accelerating progress towards a post-carbon economy.
The Pathfinder Initiative will create context-specific guidelines and will use case studies to prioritise carbon-reduction actions to improve human health. It will focus on multiple benefits of actions for the environment, the economy and health, and will promote transformative rather than incremental change.
Health systems taking the lead in reducing emissions
In October 2020, the National Health Service in England, the largest single health system in the world, adopted a multi-year plan to become the world's first carbon net zero national health system. On November 9th, Sir Simon Stevens, CEO of NHS England, will provide more detail on his vision and plans to reach the NHS's climate goals.
Additionally, the Climate & Health Dialogue will provide an update on the Health Care Climate Challenge, an initiative which has gathered hundreds of commitments by hospitals and health centers to transition to 100 percent renewable electricity and become climate resilient.
More information here
Island nations tackling double crises of climate and health
Small Island Developing States (SIDS) are on the front line of climate change impacts, further compounded by a wide range of health and developmental challenges. A WHO Special Initiative and new series of WHO/UNFCCC country profiles on climate change & health will showcase how island nations are tackling this dual threat, setting an example for the rest of the world.
More information here
Lancet Countdown on Health & Climate Change, preview of 2020 report
The Lancet Countdown is a collaboration of over 120 leading experts from academic institutions and UN agencies across the globe that tracks progress on health and climate change across a range of indicators. On November 9, the Countdown team will present a preview of their annual report, due to come out in December 2020.
More information here
Building climate-resilient and environmentally sustainable health care facilities
November 9th will feature examples of countries implementing interventions, in partnership with WHO, that provide resilience to health care facilities from climate shocks, while also reducing their environmental footprint.
More information here
Mainstreaming biodiversity in food systems
Biodiversity plays a crucial role in our food systems, including by sustaining healthy, diverse and sustainable diets and by strengthening the resilience of food systems and livelihood. November 9th will highlight how countries are transitioning towards healthier, more sustainable diets by integrating biodiversity in food-based interventions.
More information here
Lasting solutions to the pandemic
The Lancet COVID-19 Commission has been created to help decision makers worldwide to speed up global, equitable, and lasting solutions to the pandemic. Chair of the commission Jeffey Sachs will share his recommendations on financing a healthy recovery that can turbocharge the Paris Agreement.
Additionally, Elhadj As Sy (TBC), Co-Chair of the Global Preparedness Monitoring Board (GPMB) will share the necessary steps for the world to close the current gaps in political will, action, and sustainable financing to be prepared for and respond to future health crises.
More information here
A green, healthy recovery from COVID-19
The World Health Organization recently launched a manifesto with 6 prescriptions and a long list of actionables for a healthy and green recovery from COVID-19. This was supported by an open letter from over 40 million health professionals, who called on G20 leaders to put public health at the centre of their recoveries, thereby addressing air pollution, climate change and nature regeneration at the same time. The Climate & Health Dialogue will provide case-studies and examples of how this vision of a healthy recovery is being implemented.
More information here
Imagining the cities of tomorrow
The COVID-19 pandemic has profoundly impacted the world's cities. It is not just a global health crisis, but a social and economic crisis, laying bare the deep inequalities in our society. On November 9th, several mayors will share how they are reimagining their cities in a way that improves public health, reduces inequality and addresses the climate crisis.
Could 2020 be the year of healthy climate plans?
Despite setbacks, 2020 is still a year of climate action, with countries expected to submit their national climate plans, or NDCs, before the end of the year. A 2019 survey has shown that most NDCs (70%) already include public health considerations – i.e. health adaptation measures or health co-benefits of climate action. But new NDCs will likely have a stronger focus on health by placing climate targets in the context of COVID-19 recovery. The November 9 conference will provide a useful background for the different action areas in which governments can take ambitious action for climate and health.