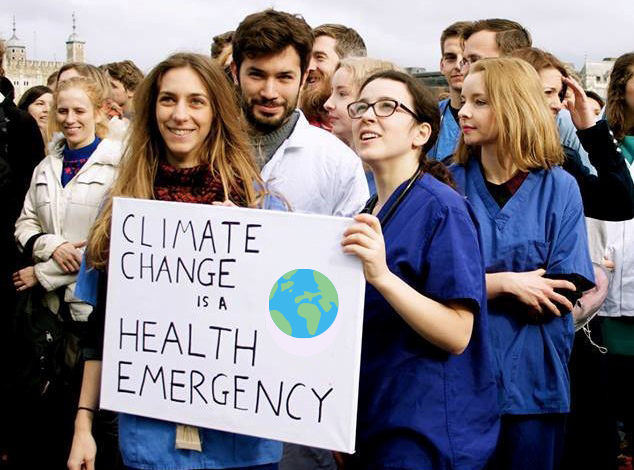 As governments prepare for COP26, the health sector is not standing idly by — we are watching, we are engaging, and we are demanding that health be put front and centre of national climate policies, in order to protect people's health from the impacts of climate warming. 
By Jess Beagley
Since early 2020, the COVID-19 pandemic has demanded the full attention of most governments worldwide, and the deployment of unprecedented resources. In recent weeks, however, preparations for November's UN Climate Negotiations (COP26) have gained increasing traction alongside continued pandemic measures, as governments begin to publish the latest updates to their national commitments for reducing greenhouse gas emissions in line with the Paris Agreement – referred to as Nationally Determined Contributions (NDCs). 
Each country's NDC defines both its emissions reduction target and the domestic efforts it plans in order to limit global warming. NDCs are the Paris Agreement's key mechanism for collectively tackling climate change; however, as of May 2021, existing NDCs and pledges, including those announced at the Leaders' Climate Summit hosted by President Biden in April still leave the world headed for 2.4℃ of warming — a catastrophic outcome for the planet, and for human health. 
Up to now, commitments fall far short of what is needed. National commitments made by world leaders, and decisions they take in the coming months to realise those commitments, will define the health of generations to come. 
This is why the Global Climate and Health Alliance, along with dozens of professional health organisations from around the world are demanding the necessary and ambitious climate targets that match the challenges that face us. This is why we are calling for a "health and equity in all climate policies" approach, essential not only to minimise the threat of future health risks, but also to enable economies to be sustainably rebuilt: healthy and ambitious NDCs are crucial components of COVID-19 recovery. 
Underpinning these demands is the twofold understanding that climate change represents the greatest threat to health of our time; and that solutions that integrate health into climate policy offer tremendous benefits for people's health and wellbeing from cleaner air and water, zero emission and active transportation options, access to healthy foods, and much more. What we ask for could not be simpler.
The science is very clear: we are currently headed for levels of global warming that are incompatible with human health and well-being. But there are ways to arrest this trajectory, and even to deliver improved health along the way. A recent study by The Lancet Countdown on Health and Climate Change found that in just the nine countries studied, climate action aligned with Paris Agreement targets would save 1.18 million, 5.86 million and 1.15 million lives per year due to improvements in air quality, diet and physical activity respectively by 2040, in addition to those saved by protecting people from climate change itself. Additional modeling found that the health benefits of improved air quality alone would offset the costs of climate action twice over at the global level.
National action
In countries around the world, including Australia, Canada, Chile, New Zealand, South Africa, the UK, and the USA, as well as the European Union, health professionals are already stepping forward with clear messages to decision makers, calling for stronger national climate commitments (NDCs), and for integrating health into these climate plans. Some of these efforts are already having an impact. 
When Chile released its updated NDC, in April 2020, leading Chilean experts on public health and the environment responded, applauding its strengths but also highlighting the need for improvements, most notably that commitments in key sectors such as energy decarbonization and water management remain only voluntary.
As the UK was developing its new NDC, in October 2020 the UK Health Alliance on Climate Change (UKHACC) representing UK medical, nursing and public health societies, wrote to Prime Minister Boris Johnson calling for an NDC that aligns with limiting global warming to 1.5℃; is achieved by domestic progress, not by seeking carbon credits; and that delivers the UK's fair share of climate action. Thanks to coordination between UKHACC and other civil society groups, the UK set one of the most ambitious climate targets to date, making it one of the first countries to align its emissions reductions commitments with a 1.5°C limit, with its vow to reduce emissions by 68% compared to 1990 levels, by 2030. UK health and civil society groups are set to keep a close eye on government to ensure that the necessary national policies are put in place to deliver on that commitment.
In December 2020, after sustained pressure by the Health and Environment Alliance (HEAL) in concert with other organizations, the EU (along with its 27 member states) committed in its updated NDC to increase its emissions reduction goal from 40% by 2030 (compared to 1990 levels) to 55%. HEAL continues to press, calling for the EU to end support for fossil fuels, ensure a just transition, and pursue a path towards zero pollution. HEAL notes that to align with the 1.5℃ target required to deliver a healthy recovery from COVID-19, the EU must reduce its greenhouse gas emissions by 65% by 2030.
In March 2021, OraTaiao: NZ Climate & Health Council, representing health professionals in New Zealand, submitted a public comment to the national Climate Change Commission – stating that OraTaiao "cannot support the majority of the Commission's recommendations as they do not take into account the health and health equity gains that can be made by emission reducing policies, and the advice does not account for the harm climate change will cause to health and healthy equity". That effort is still work in progress — the Commission is now reviewing public comments and will release its advice to the Government by the end of this month. 
This April, 48 organizations, including the Medical Society Consortium on Climate and Health, which represents major US medical societies, with members totalling over 600,000 US medical doctors, delivered a letter to President Joe Biden calling on him to "Go Big at COP26 for Health". In the same week, a global health policy team from the University of Wisconsin delivered a policy advisory document to senior Biden administration officials, outlining the health and equity benefits of potential climate policies across a variety of sectors. This pressure worked: as well as making an ambitious commitment to curb emissions by 50-52%, the new US NDC announced during the Leaders' Summit on Climate makes clear reference to the health benefits of policies to reduce climate emissions from electricity, transport and buildings. Welcomed as a clear step forward from the US, the Biden administration's mitigation commitments nevertheless do not yet fully align with limiting warming to 1.5℃ and the US NDC has yet to address health in climate adaptation and resilience — so work remains to be done. But the 50-52% target kindled renewed hope for climate diplomacy.
In advance of that Summit on Earth Day in April, the Canadian Association of Physicians for the Environment along with over 30 other health organizations wrote to Prime Minister Justin Trudeau, casting a spotlight on Canada's failure to cut greenhouse gas emissions from levels in 2000, and calling for clear commitments to protect health and deliver a healthy recovery from the COVID-19 pandemic. Critique of the government's initial emissions reduction target by the health community and others led to the Trudeau administration upping its commitment to a 40-45% reduction (increased from 36%) during the Leaders' Summit. Still, the new target remains a "half measure" according to leading health and civil society voices, who are pushing for a commitment to a 60% reduction in its forthcoming NDC, in line with Canada's "fair share" to reach 1.5℃.
On Friday, April 30th, the South African Medical Association, the Public Health Association of South Africa, and Amref Health Africa jointly submitted detailed comments and policy recommendations on South Africa's draft NDC, outlining the benefits of integrating win-win policies for climate, health and equity into South Africa's national commitments.
And in Australia on May 3rd, 58 health organizations, including leading medical and nursing societies, the hospitals association, and Australia's Climate and Health Alliance, sent an open letter to climate laggard Prime Minister Scott Morrison calling for the government to "to scale up emissions reduction strategies to prevent premature deaths and declining health outcomes associated with climate change." So far, Morrison has stuck with a 26-28% commitment in Australia's NDC. These health groups have noted that limiting global warming to no more than 2℃, and aiming for 1.5℃, is "humanity's most important public health goal", and have joined other civil society organizations to advocate for "Better Futures" for all Australians. 
International momentum builds:
These efforts by health organisations are not only influencing governments, they are inspiring their colleagues in other countries to make their voices heard. The Global Climate and Health Alliance is seeing momentum build around the world, as health professionals realise the role they can play in forming climate policy. In a statement published in late 2020 which remarked that "a stable climate is the most fundamental determinant of human health," the Global Climate and Health Alliance board of directors highlighted the urgent need for countries to commit to climate plans that align with the targets of the Paris Agreement, and noted that health professionals' voices can make a difference. In April 2021, a multinational survey of doctors and nurses found that nearly 90% of those surveyed felt that health professionals have a responsibility to bring the health effects of climate change to the attention of policy makers, to ensure climate policies meet the goals of the Paris Agreement. 
The Global Family Doctors association (known as WONCA), representing 500,000 family doctors in 131 countries who care for 90% of the world's population, released a WONCA Action Call for COP26, calling for countries to "set a joint and equitable plan to achieve net zero emissions by 2040." 
Health Care Without Harm (HCWH) has released a brief for policy makers on incorporating health into NDCs, with a special focus on measures to decarbonize the healthcare sector, part of its larger global healthcare decarbonization initiative. 
Most recently, a commentary in the international Lancet Planetary Health medical journal calls for inclusion of COVID-19 recovery measures in NDCs and makes recommendations on how to do so, because a "response to both crises can only succeed when tackled concurrently". 
Looking ahead 
With several international events on the agenda in the run up to COP26 in Glasgow, health organizations can seize these opportunities to drive home the message that climate change is a health issue, as countries continue to make their commitments ahead of the November negotiations. 
Alongside the Petersberg Climate Dialogue (6-7 May), the World Health Organization will bring together ministers responsible for health, climate, and urban planning for a session focused on health sector resilience and adaptation, highlighting the threats health systems must prepare for, as climate change continues to unfold. The World Health Assembly, the G7 and G20 meetings, the UN General Assembly, and the pre-COP ministerial meeting also stand out as key moments to raise climate and health issues in the international context. 
Throughout the month of May, health organizations, development organizations, academics and health ministries will contribute to a series of Regional Consultations, one in each of the WHO regions. Through these consultations, hosted by WHO, its Regional Offices, GCHA, and the WHO-Civil Society Working Group on Climate and Health, health representatives will identify key recommendations for national and international leaders to address climate and health.
The findings of those Regional Consultations will be delivered to the UNFCCC and national delegates to the COP26 negotiations, as part of a COP26 Report being developed by the WHO; WHO and GCHA will also co-host, with other partners, a Global Climate and Health Conference as part of an array of activities to bring the health voice to the table during the UN negotiations.
Who Is On Track?
To track countries' progress on putting health at the core of national climate policies, GCHA plans to launch a "Healthy NDCs" Scorecard by mid-year. This scorecard will rank governments alongside each other, rating the extent to which governments have integrated health into their NDCs, and whether their climate action targets are ambitious enough to protect people's health. These scorecards will serve as a tool for governments and civil society alike, not least to inform priorities relating to fora such as the UNFCCC Intersessionals and G20 preparations.
As 2021 progresses, expect to see concerned health organizations and health professionals around the world rallying together to demand that their governments adopt the climate policies truly needed to protect people's health; that meet the scale and scope of the climate emergency and embed health in all national climate policies.
Jess Beagley is a policy analyst at the Global Climate and Health Alliance. 
Get in touch
To join the chorus of health voices pushing for "Healthy NDCs" (healthy national climate commitments under the Paris Agreement) and a Healthy Recovery, get in touch! Let the Global and Health Alliance know what you're doing on this, or if you'd like help getting started. Email [email protected].