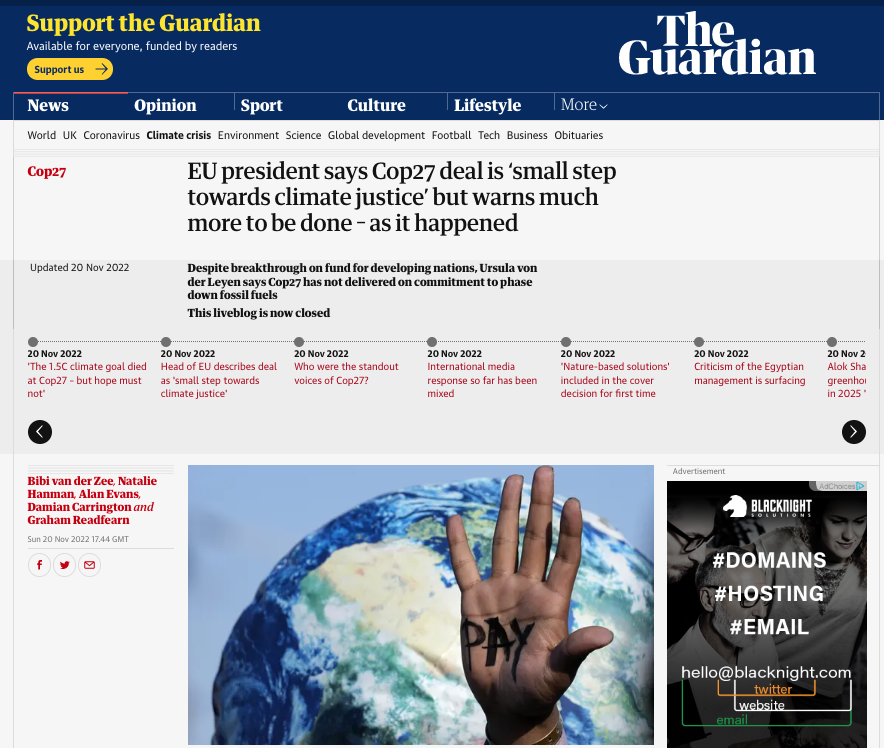 Here's a roundup of some of the top media coverage achieved by the Global Climate and Health Alliance during COP27. 
The Guardian: Cop27 live: clashes over key issues as talks head into the night
Jeni Miller, at the Global Climate and Health Alliance of 130 health organisations, makes the link between a healthy planet and healthy people: "Despite support from over 80 countries, governments' collective failure to deliver a clear commitment to phase out all fossil fuels puts us on course to go beyond the already dangerous 1.5C global temperature rise. Only full fossil fuel phase-out will deliver the maximum health benefits from clean air and a clean, healthy and sustainable environment."
Agence France-Presse/Radio France International: 'Threat multiplier': How climate change affects health
Story published worldwide by AFP and numerous news outlets, in multiple languages, e.g. France 24, Yahoo.es, Bangkok Post, Hindustan Times etc.)
"Climate change is a threat multiplier," Jess Beagley, policy lead at the Global Climate and Health Alliance told AFP. "As climate change worsens, we're going to see the biggest threats to human health increase."
The Lancet: COP27: a "collective failure"
"Loss and damage are so clearly impacts that affect people's health—from the obvious, like damage to clinics, hospitals and other health facilities, to damage to water and sanitation systems, to slow moving [impacts] like vector borne disease, and impacts on agriculture reducing people's access to food", (The Global Climate and Health Alliance's Jeni) Miller told The Lancet. "Finance for loss and damage will enable impacted countries to address their people's health needs in response to severe climate impacts", she added.
Alternet/Common Dreams: Not yet defeated': Thousands march outside UN climate summit
"The call for greater oil and gas production is completely out of step with climate science," Jeni Miller, executive director of the Global Climate and Health Alliance, said Friday in a statement. "Presented as a necessity for development, new investments in fossil fuel infrastructure would instead simply lock a new generation into these dirty fuels, at a time when clean energy is viable and ready to be scaled."

"The rightful need of people in low- and middle-income countries for access to energy—for clean cooking, for healthcare, for education, for jobs, and many other key determinants of health—must not bring with it the health costs associated with fossil fuels," Miller added. "It is vital that high-income countries provide financial support for the transition in low- and middle-income countries."
Health Policy Watch: 'No Credible Pathway' to Limit Warming to 1.5°C, Systemic Transformation Only Option to Avert Climate Collapse
"The worst impacts of fossil fuel-driven climate change are being felt by developing countries – those least responsible for having caused it," said Dr Jeni Miller, Executive Director of the Global Climate and Health Alliance. "High-income countries must provide developing countries with the necessary financial and technical support for the equitable access to the clean energy their people need."
The Daily Maverick, South Africa: The Sharm el-Sheikh Implementation Plan — what the world did and didn't agree to at COP27
Jeni Miller: "Limiting warming to 1.5°C, essential to avert catastrophic health impacts, requires phasing out all fossil fuels; and only full fossil fuel phase-out will deliver the maximum health benefits from clean air and a clean, healthy and sustainable environment."