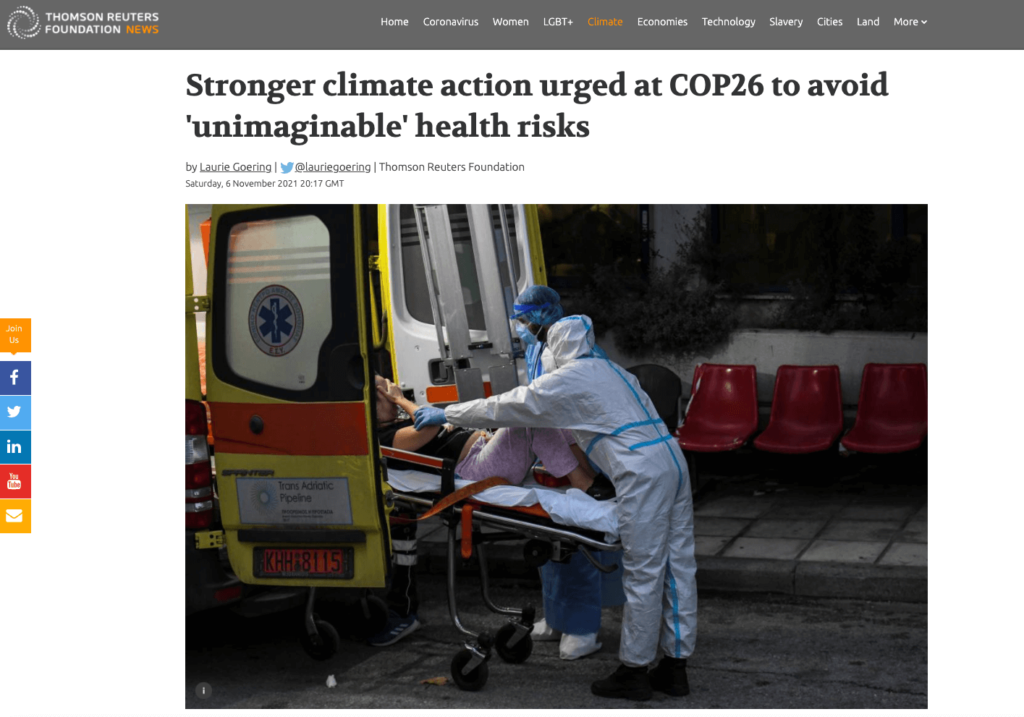 By Laurie Goering, Thomson Reuters Foundation, 6 November 2021: Stronger climate action urged at COP26 to avoid 'unimaginable' health risks
From extreme heat to hunger, climate change is bringing growing health threats – but bringing together emissions cuts and adaptation efforts could help.

From extreme heat to worsening hunger and water shortages, accelerating climate change threatens "unimaginable" health consequences, scientists and health officials warned on Saturday on the sidelines of the COP26 U.N. climate talks in Glasgow.

As with the COVID-19 pandemic, "it won't be long before the entire population of the world is affected, directly or indirectly," said former Australian Prime Minister Julia Gillard, now head of UK health charity the Wellcome Trust.

…

Jeni Miller, executive director of the Global Climate and Health Alliance, emphasised that many more national climate plans need to take into account health threats – and that cutting emissions will be key to curbing those risks.

"The decisions made at COP26 will define the health and well-being of people … for years to come," she said.
Continue reading: Stronger climate action urged at COP26 to avoid 'unimaginable' health risks