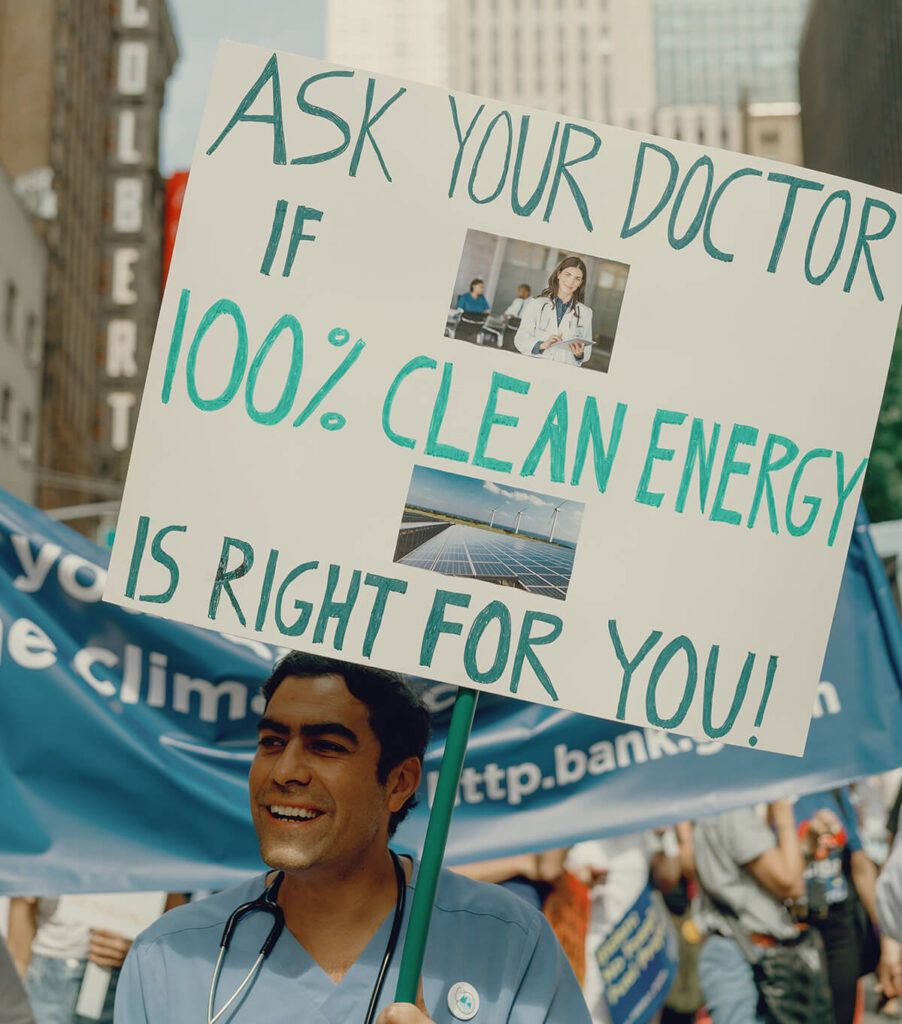 New York,18th September:- Health professionals from around the world are calling on governments to commit to an accelerated, just and equitable phase-out of fossil fuels as a decisive path to health for all ahead of this week's Climate Ambition Summit on September 20.
Dozens of doctors, nurses and other professionals working in the health sector joined tens of thousands of marchers outside the New York headquarters of the United Nations during The March to End Fossil Fuels on September 17th. A "HealthHub" organised by Physicians for Social Responsibility Pennsylvania and the Global Climate and Health Alliance brought together health professionals and health workers to participate in the march – clad in their scrubs and lab coats.
The health workers marched in support of the UN Secretary General's Antonio Guterres' call for governments to commit to "to no new coal, oil and gas; fossil fuel phase-out plans; more ambitious renewable-energy targets; Green Climate Fund pledges; and economy-wide plans on adaptation and resilience" for the Climate Ambition Summit, and his call for "all G20 governments to commit to presenting, by 2025, more ambitious economy-wide Nationally Determined Contributions featuring absolute emissions cuts and covering all gases."
"To protect people's health amidst the unfolding climate crisis, this week's Climate Ambition Summit must mark the decisive turning point away from the fossil fuel era, to an era of clean energy and resilient communities", said Dr Jeni Miller, Executive Director of the Global Climate and Health Alliance. "The health sector is on the front line of the response to the devastating impacts on health we're already seeing, from floods and heatwaves, from wildfires and the spread of diseases – and we've been calling for additional investment to strengthen health systems in the face of these impacts. But unless governments also quit making the crisis worse by continuing to burn fossil fuels, we will quickly exceed the protections any health system can offer."
"Putting an equitable end to fossil fuels is absolutely central to a healthy future – this is why the COP28 Presidency and the leaders of all countries must commit to an accelerated, just and equitable phase-out of fossil fuels as a decisive path to health for all", added Miller.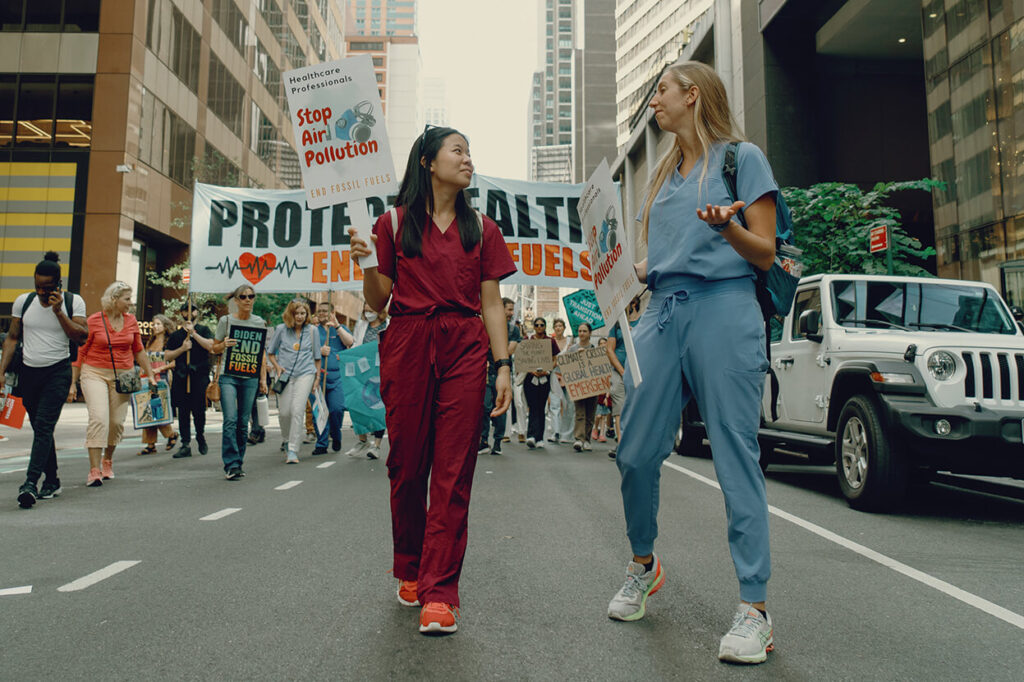 "Pennsylvania is the 2nd largest oil and gas producer in the country and impacts the health of its residents from processing to transportation to storage. We cannot continue to rely on fossil fuels when they are a global death sentence."
Tonyehn Verkitus, Executive Director, Physicians for Social Responsibility Pennsylvania and Health Hub lead
"As health care providers, with all we know about the serious risks to human health, it is our professional responsibility to call for an end to fossil fuel use that pollutes the air and heats the planet… we must end fossil fuel use and provide a just transition to renewable energy for a livable planet. We call on President Biden and world leaders to declare a climate health emergency."
– Dr. Adrienne Wald, Associate Professor of Nursing at Mercy University in NY and member of the Alliance of Nurses for Healthy Environments
"The gaseous emissions of fossil fuels negatively impact the environment and adversely impact human health. The escalating natural crisis are a sign that we need urgent and radical action, or else we risk pushing humanity itself to the brink of extinction."
– Devika Gopal Agge, Senior VP Strategic Philanthropy, The New York Women's Foundation
"Corporate profits should never come at the expense of our health. Pollution and the climate crisis directly impacts our health and disproportionately affects our most vulnerable communities, already suffering from the deep inequalities inherent in our current for-profit healthcare system. We are marching because we recognize that our fight for single-payer, universal healthcare for all and health justice is inextricably linked to the fight for racial justice, environmental justice, and an end to fossil fuels."
– Morgan Moore, Physicians for a National Health Program – NY Metro Chapter
"Hospitals divested from tobacco in the '90s. It's time the Health Sector divest, today, from fossil fuels." – Don Lieber, Director, Do No Harm
"It's simple – from cradle to grave fossil fuels are harmful to our health. Across the country, communities are being poisoned by toxic air pollution from the fossil fuel industry and our reliance on fossil fuels is driving unchecked climate change. This is unacceptable. Nurses are calling on the Biden administration and world leaders to take bold action to protect people and promote a more sustainable and healthy future by stopping fossil fossil fuels." – Cara Cook, Alliance of Nurses for Healthy Environments
Contact: Dave Walsh, GCHA contact [email protected], +34 691 826 764
For additional information see:
Cradle to Grave: The health harms of fossil fuels and the case for a just phase-out (GCHA, July 2022)
A Just Energy Transition for a healthy fossil fuel free world (Health & Climate Network, a project of GCHA, Sept 2022)
About GCHA
The Global Climate and Health Alliance is the leading global convenor of more than 150 health professional and health civil society organizations addressing climate change. We are a consortium of health organizations from around the world united by a shared vision of an equitable, sustainable future, in which the health impacts of climate change are minimized, and the health co-benefits of climate change mitigation are maximised.
Find out more: https://climateandhealthalliance.org/about/