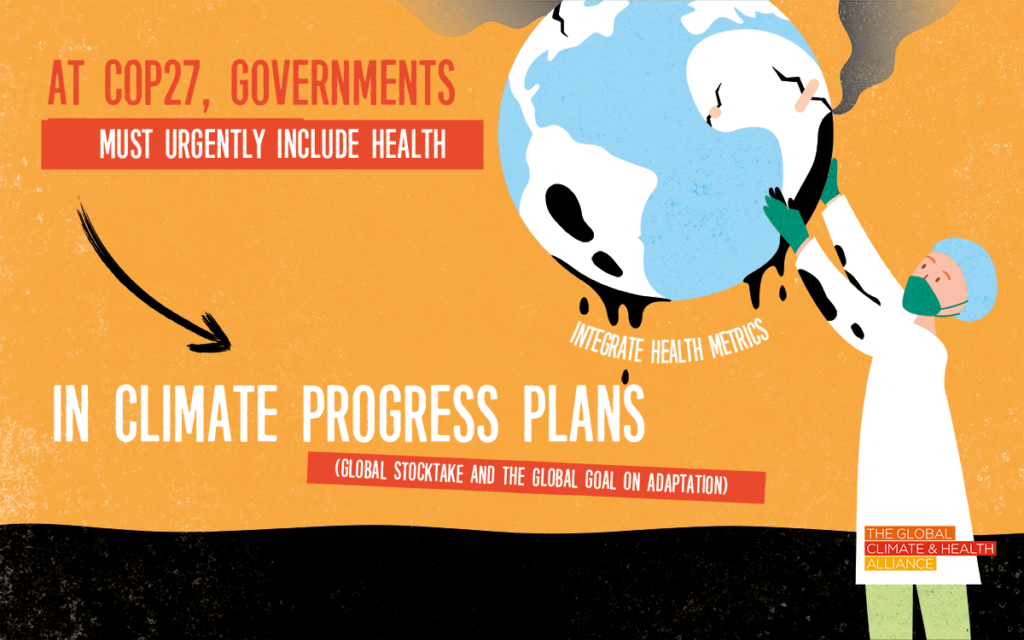 See also:
COP27: Health Organizations Issue Stern Demand for Loss and Damage Fund
COP27 Oil & Gas Proposal Earns Sharp Rebuke from Global Health Community
Sharm El-Sheikh, 17 November 2022:- As the COP27 Climate Summit this week reviews progress on climate action and the implementation to date of the Paris Agreement, the World Health Organization and the Global Climate and Health Alliance called for the urgent inclusion of health metrics in the UNFCCC's Global Stocktake and the Global Goal on Adaptation, in order to track whether global climate action is protecting the health of people around the world. Both assessments are being established for the first time, with a way forward to be defined in time for COP28 [See notes 1,2,3, 4].
Heading into the final two days of the climate talks, negotiators have proposed, in the draft cover text, that governments in their climate action, should "respect, promote and consider their respective obligations on human rights including the right to [the] highest attainable standard of physical and mental health" [5]. The draft also refers to the "United Nations General Assembly Resolution 76/75 which recognized the right to a clean, healthy and sustainable environment as a human right" [6].
"At COP27, countries are starting to recognize that protecting people's health must be a core goal when taking action on climate change. However, governments must also realise that to protect the health of their citizens, they must measure progress towards that protection", said Jeni Miller, Executive Director of the Global Climate and Health Alliance (GCHA).
"Health is the ultimate measure of progress on climate change", said Dr. Maria Neira, Director of the Department of Public Health and Environment at the World Health Organization. "We will be able to count our success in breaking our fossil fuel addiction in fewer cases of asthma in children, and deaths from lung cancer."
"During COP27 and in the months to come, negotiators must integrate health metrics into the Global Stocktake and the Global Goal on Adaptation as a fundamental component for assessing global progress on how the Paris Agreement is being delivered", said Jess Beagley, Policy Lead for GCHA. "This is clear and immediate climate action that governments can and must take to protect people's health and wellbeing, and to raise ambition for climate action."
"If we fail to monitor the health implications of climate action – or inaction – we conceal the human face of climate change", continued Miller. "We also risk ticking boxes for perceived successes, while people continue to fall ill due to climate change. Climate action, at its core, is about people, and the environment in which we live."
"Governments must assess progress on climate action by measuring what matters most – people's health. – by agreeing on a shared set of health metrics that will be used in future reporting for the Global Stocktake and the Global Goal on Adaptation", added Miller.
"Health is a universal indicator of effective climate action across all sectors, not only in healthcare, but also across mitigation, adaptation and finance", said Beagley. "Firstly, mitigation reduces health threats including heatwaves, spread of infectious disease, and injury and death due to wildfires and extreme weather events. Effective mitigation also brings co-benefits for health, for example, in the energy sector, mitigation through transitioning to renewable energy leads to improved air quality, therefore reducing the burden of cardiovascular and respiratory diseases and some cancers".
"Health is an equally important indicator for effective adaptation across sectors. Resilient water and sanitation systems, sustainable and resilient agriculture, adaptive urban design & buildings are all needed to ensure potable water, nutrition security, recourse from heat and other weather extremes, and safe homes. All of these can be assessed via public health metrics and health outcomes", added Beagley. "None of these actions will be possible to deliver without adequate finance – and measures which offer health co-benefits can deliver high returns on investment".
Many of the tools to measure climate in public health terms already exist. The Lancet Countdown: Tracking Progress on Health and Climate Change monitors health impacts, resilient health systems, health co-benefits of mitigation, and economic and financial levers. Meanwhile, the World Health Organization regularly surveys governments around the world on their national plans and strategies which integrate health and climate priorities, and identifies solutions for action [7].
"The current phases of both the Global Stocktake and the Global Goal on Adaptation will conclude at COP28. We have a window of opportunity right now during COP27, and in the coming months to make people's health and well-being integral to how the UNFCCC grades progress on the Paris Agreement", concluded Beagley.
ENDS
Contact:
For interviews with health professionals during COP27, contact Dave Walsh, Communications Advisor, Global Climate and Health Alliance, +34 691 826 764 (Europe) – [email protected] is checked regularly.
Notes:
[1] Submission to the UNFCCC First Global Stocktake, Second Technical Call, August 2022
https://climateandhealthalliance.org/wp-content/uploads/2022/08/Submission-by-World-Health-Organization-Global-Climate-and-Health-Alliance-and-Partners_August-2022_edit.pdf
Prepared and supported by the World Health Organization, Global Climate and Health Alliance, Lancet Countdown on Health and Climate Change, Health and Climate Network, Health Care Without Harm, Nurses Across the Borders, UK Faculty of Public Health, Stanford University, Climate and Health Alliance of Australia (CAHA), UK Health Alliance on Climate Change, University of Edinburgh Global Health Academy, Vital Strategies, Enhancing Belmont Research Action to support EU policy making on climate change and health (ENBEL), Union of Socio Cultural Friends of Action in Development (UNASCAD-Haiti), EXHAUSTION research consortium, and Action for Global Health.
[2] World Resource Institute: Global Stocktake
https://www.wri.org/paris-rulebook/global-stocktake
[3] How to Raise the GlaSS on the Global Goal on Adaptation at COP 27: Four foundations to build upon
https://www.iisd.org/articles/deep-dive/glass-global-goal-adaptation-cop-27
[4]  World Health Organization & Global Climate and Health Alliance: UNFCCC Global Goal on Adaptation Submission, 5 September 2022
https://www4.unfccc.int/sites/SubmissionsStaging/Documents/202209161510—WHO.GCHA_GGA_submission2.pdf
[5] COP27 Presidency Non-Paper 2 on Cover Decisions
https://unfccc.int/sites/default/files/resource/Presidency%20non-paper2%20on%20cover%20decisions.pdf
[6] 28 July 2022, UN General Assembly declares access to clean and healthy environment a universal human right
https://news.un.org/en/story/2022/07/1123482
[7] 2021 WHO health and climate change global survey report
https://apps.who.int/iris/rest/bitstreams/1388258/retrieve
About GCHA
The Global Climate and Health Alliance is the leading global convenor of health professional and health civil society organizations addressing climate change. We are a consortium of health organizations from around the world united by a shared vision of an equitable, sustainable future, in which the health impacts of climate change are minimized, and the health co-benefits of climate change mitigation are maximised.
Find out more: https://climateandhealthalliance.org/about/