Watch May 15 2023 press briefing on YouTube
Low- and middle income countries lead the way when it comes to inclusion of health goals in their climate commitments
View/Download:
Healthy NDC Scorecard webpage
Download scorecard barchart
Download individual Healthy NDC scorecards
Report: 2023 Healthy NDC Scorecard

16 May, 2023:- With this December's COP28 fast approaching, low- and middle income countries lead the way when it comes to inclusion of health goals in their climate commitments, while more wealthy, industrialised nations – responsible for the majority of historical global greenhouse gas emissions – lack long term vision, according to analysis published today by the Global Climate and Health Alliance, a coalition of over 150 health and development organizations working to tackle climate change.
The latest edition of the Healthy NDC Scorecard, which analyses the 58 Nationally Determined Contributions (NDCs) submitted, finds countries such as Burundi (which scored 17 out of 18 available points for inclusion of health) and Côte d'Ivoire (15 points), ahead of the game on integrating health into their NDCs submitted to the United Nations Framework Convention on Climate Change (UNFCCC), as required by the Paris Agreement. This edition analyses NDCs submitted between 1st October 2021 and 23 September 2022.
Of 16 countries scoring above 10/18 for inclusion of health, all were low- and middle- income [1]. This continues a trend found in previous NDC Scorecard iterations, which saw Costa Rica and Cambodia scoring much higher than the EU (which submits its NDC as a bloc), or other major emitters such as the US, Australia or the UK.
"Overall, the Healthy NDC Scorecard demonstrates a trend of low- and middle-income countries showing greater ambition for protecting their citizens' health from the worst impacts of climate change, while identifying additional wins through health co-benefits of climate action", said Jess Beagley, Policy Lead at the Global Climate and Health Alliance. "Every country, but especially those with lagging scores for health and for mitigating climate change, must ensure that the protection and promotion of health is integrated into their NDCs, their wider policy positions at the forthcoming UNFCCC meetings in Bonn and at COP, along with taking domestic action. Recognising the links between health and climate change is a crucial first step, and must be matched by climate action."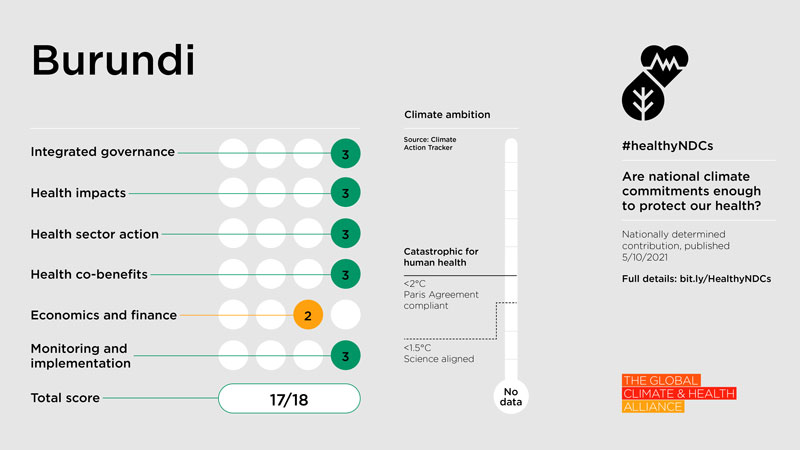 Each NDC was assigned a health score, with a total maximum of 18 points available across six categories (health impacts of climate change, actions in the health sector itself, recognition of health co-benefits of climate action in other sectors, economic and financial considerations, and monitoring and implementation). In addition, data from Climate Action Tracker was included wherever available, to evaluate the country's level of ambition with regard to its emissions reduction target in the NDC, their key commitment for mitigating climate change and limiting global warming. See in-depth report for more details [2]. 
This iteration of the Healthy NDC Scorecard sees several wealthy nations, including Australia, Japan and New Zealand, receiving scores of zero, reflecting the lack of any reference to health and climate linkages in their NDC. Meanwhile, the NDC emissions targets of some G20 nations, including Indonesia and Saudi Arabia, as well as of COP28 host the United Arab Emirates and COP27 host Egypt, received the worst rating available on the scale used by Climate Action Tracker: their climate mitigation targets contained in their NDCs align with over 4°C of warming, far beyond the 1.5C target agreed under the Paris Agreement, and putting the world on track for catastrophic and irreversible climate change impacts.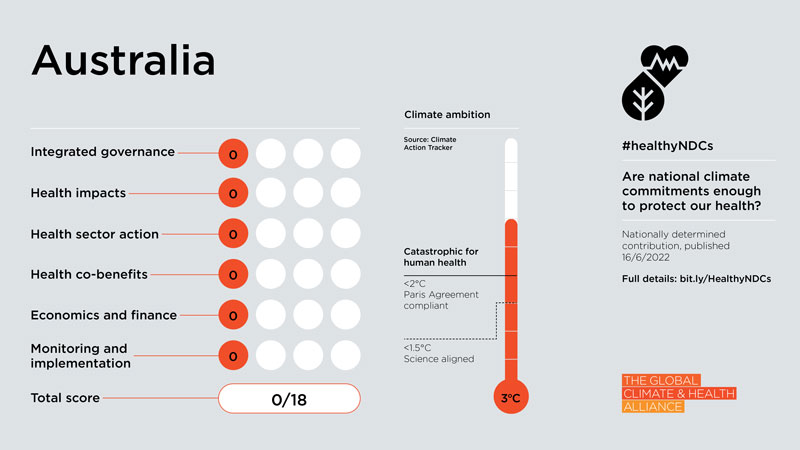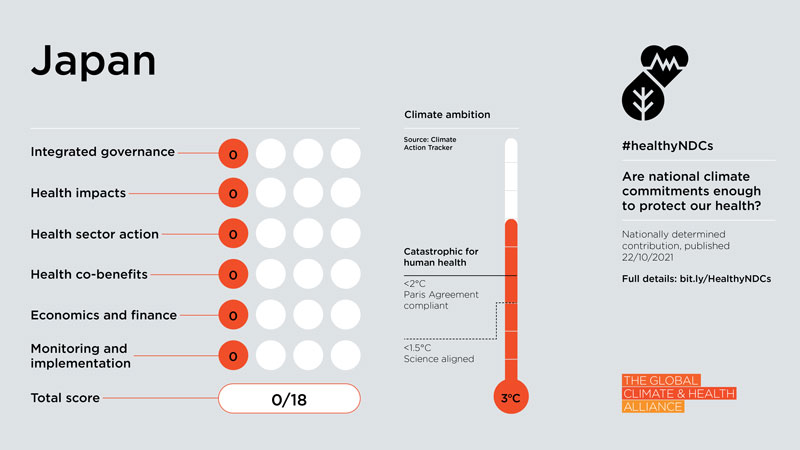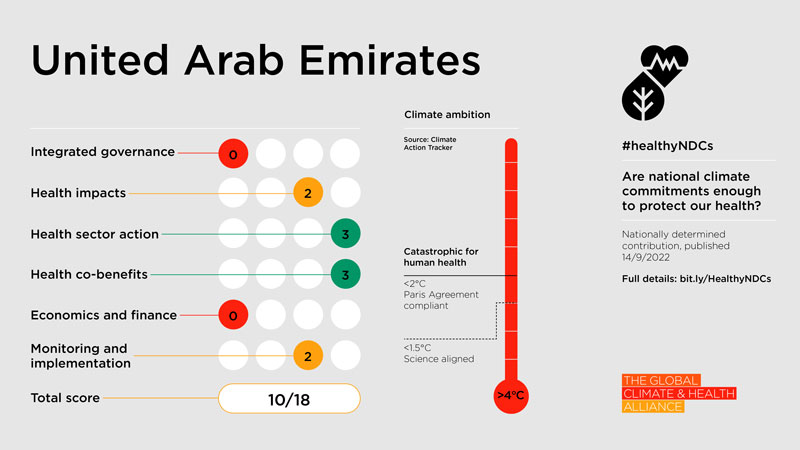 "Although COP28 is being marketed as the 'Health COP', the Healthy NDC Scorecard scores make it clear that virtually none of the countries most culpable for climate warming appear to be clearly focussed on protecting the health of their citizens, or people around the world, when making climate commitments", said Dr Jeni Miller, Executive Director of the Global Climate and Health Alliance. "This is despite promising to protect people's 'right to health' when adopting the 2015 Paris Agreement, as well as endorsing the 'right to a healthy environment' at COP27".
During 2023 the UNFCCC is assessing governments' collective progress toward meeting climate change targets set out when 196 countries adopted the 2015 Paris Agreement – in a process referred to as the 'Global Stocktake' [3]. The UN Environment Program's 2022 Emissions Gap Report shows that governments are falling far short of limiting warming to 1.5C, past which we will hit dangerous tipping points that could be devastating for health [4]. The results of the Global Stocktake will set the expectations for the next round of NDCs. 
"The Global Stocktake process creates an opportunity to set new norms, and to call on all countries to integrate health into their next NDCs." said Beagley. "We hope that the next Healthy NDC Scorecard assessment will find high scores for health, along with emissions reductions commitments that align with 1.5C to protect health." 
"As this December approaches, low scoring countries must take up health as a core goal of climate action, and bring that lens to their engagement with the climate talks", said Miller. "Countries with high scores must play key roles as champions for people and people's health at the talks. Crucially, all countries should send their health ministers to COP28 to send a clear message that people's health must be central to the climate negotiations".
"The protection of people's health and well being around the world must drive decision making in the COP28 negotiation halls across all the areas of negotiation, from adaptation, to agriculture and nutrition, to finance, and of course to mitigation", continued Miller. "COP28's proposed focus on health must also drive commitments to a full phase-out of fossil fuels, in line with the science". 
"By integrating health into their climate commitments and across their climate policy making, governments will set in motion the significant near term and local benefits they could achieve through climate action", said Miller. "Today 99% of the world's population lives in areas that do not meet WHO guidelines for air pollution, with 8-10 million people per year dying prematurely from air pollution due to fossil fuels [5,6]. Access to healthy, sustainable, nutritious diets could prevent millions of premature deaths per year, in countries at all levels of all economic development. The benefits of health-focused climate action are profound, with potentially transformative benefits for healthier and more equitable societies [7]."
As long as humanity continues burning fossil fuels, we will continue compromising the health of everyone on earth ", concluded Miller. "A focussed plan for a global fossil fuel phase-out is a global public health imperative – a switch to renewable energy offers triple-win solutions for energy access, clean air, and a safe planet. If COP28 is truly to be the 'Health COP' then governments must not only act to protect people's health, they must also rid the world of fossil fuel dependence." 
ENDS
View/Download:
Healthy NDC Scorecard webpage
Download scorecard barchart
Download individual Healthy NDC scorecards
Report: 2023 Healthy NDC Scorecard
Video: 15 May 2023 Press Briefing
Previous press releases:
July 7, 2021: Healthy NDCs: Scorecard Exposes Health Gaps in National Climate Policies Ahead of COP26
September 20, 2021: Ahead of COP26, Latest Healthy NDC Scorecard Shows Low & Middle Income Countries Leading Action
March 14, 2023: Health Professionals Welcome COP28 Health Day But Emphasize Health Focus Must Go Further
See also: Why COP28's Health Focus Must Go Beyond Words to Protect People's Health
Contact:
Dave Walsh, Communications Advisor, Global Climate and Health Alliance, +34 691 826 764 (Europe) – [email protected] is checked regularly.
Notes:
[1] Often, high income countries focus on mitigation measures in their NDC, and submit adaptation measures in a separate document. This mainly accounts for differences in the health sector action and co-benefits categories.
[2] Climate Action Tracker produces different kinds of ratings for any given country. Since this assessment is focussed on NDCs, CAT's ratings NDC emission reductions targets compared to a country's 'fair share' of emissions were used . https://climateactiontracker.org/countries/
[3] UNFCCC Global Stocktake
https://unfccc.int/topics/global-stocktake
[4] UNEP Emissions Gap Report 2022
https://www.unep.org/resources/emissions-gap-report-2022
[5] "WHO data show that almost all of the global population (99%) breathe air that exceeds WHO guideline limits and contains high levels of pollutants, with low- and middle-income countries suffering from the highest exposures."
https://www.who.int/health-topics/air-pollution#:~:text=WHO%20data%20show%20that%20almost,earth's%20climate%20and%20ecosystems%20globally.
[6] Environmental Research: Global mortality from outdoor fine particle pollution generated by fossil fuel combustion: Results from GEOS-Chem
https://www.sciencedirect.com/science/article/abs/pii/S0013935121000487
Fossil fuel air pollution responsible for 1 in 5 deaths worldwide
https://www.hsph.harvard.edu/c-change/news/fossil-fuel-air-pollution-responsible-for-1-in-5-deaths-worldwide/
[7] The Lancet Planetary Health: The public health implications of the Paris Agreement: a modelling study
https://www.thelancet.com/journals/lanplh/article/PIIS2542-5196(20)30249-7/fulltext
About GCHA
The Global Climate and Health Alliance is the leading global convenor of more than 150 health professional and health civil society organizations addressing climate change. We are a consortium of health organizations from around the world united by a shared vision of an equitable, sustainable future, in which the health impacts of climate change are minimized, and the health co-benefits of climate change mitigation are maximised.
Find out more: https://climateandhealthalliance.org/about/